Whitinsville Christian School is excited to partner with Come Unity, Alale Girls' School in the region of Pokot, Kenya, and Chick-fil-A in Westborough for its latest campaign, or "cowpaign," known as "Give a Cow!" This WCS service learning partnership is designed to raise awareness of the Pokot region, teach the WCS students about the Kenyan students, and support the Pokot community through the gift of a dairy cow.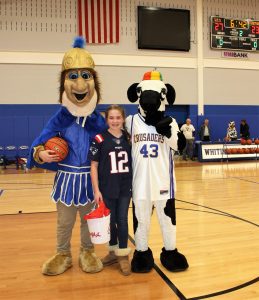 "Our fundraising goal for this 'cowpaign' is $5,000, which will purchase one dairy cow and the grain, veterinary services, and necessary education to effectively care for the cow," said Jodi Koeman, Director of Spiritual Formation at WCS. "The hope is that this project not only provides nutrition to the girls at the Alale Girls' School, but also provides small business training and an economic benefit in the community." The WCS elementary and middle school students have been given an empty milk carton and have been challenged in many ways to fill those cartons with money during the month of February. The high school students are also raising money in creative ways. Senior, Maeve Haseltine, recently hosted a story hour for younger students and the Student Council is making displays for two basketball games where Chick-fil-A will join WCS as sponsors.
On February 2, the Chick-fil-A cow mascot made an appearance at the WCS Girls JV and Varsity basketball games. Contestants participated in a half-time free throw contest and Chick-fil-A meals were available at the concessions stand, with proceeds supporting "Give a Cow." This event will be repeated on February 15, at the WCS Boys basketball games. "It is truly our pleasure to collaborate with and support the Whitinsville Christian Basketball Teams! Eat More Chicken!" said Sandra Backstrom, Director of Marketing for Chick-fil-A.
The Westborough Chick-fil-A is also hosting a Spirit Night on February 20. A portion of the sales from that day will be donated to the WCS "cowpaign." Guests will need to mention that they are supporting WCS Spirit Day.