89%
graduated college
within 4 years
(National avg <40%)
9:1
Student /
Faculty Ratio
97%
WCS ALUMNI
employed within 1 year
of college graduation
(National avg 70%)
92%
said WCS prepared them
well for their career
This school has been and will continue to be such an amazing spiritual environment for my two children.
There's a certain unity and family feel. Everyone pulls together. The seniors know the 2nd graders and the 5th graders know the 9th graders and so on. The front desk staff greet both parents and students alike by their first name and get to know each one personally. The academics and the teachers are absolutely stellar. I just can't say enough.
– Heather S.
This is our son's second year at WCS and I have no doubt this is where he belongs.
I will miss my friends, and I will miss this place, great teachers and great people.
The school really helped me prepare for my future and I am grateful. I hope God continues to bless this school and I am excited to see what is in store for this place! God Bless WCS!
– Isaiah H.
I have been attending WCS for 13 years now.
I started when I was in kindergarten. I have found that this school cares. Not only do they care about giving you a fantastic education that ensures you are ready for college, but also they care about you individually and your walk with Christ. I can honestly say that I have developed a relationship with each one of the teachers that I've taken classes with and I highly respect them. I think this is a great educational institute and I would recommend it to any family who wants a strong, excellent Christian education.
– Class of 2018 student
Whitinsville Christian School is an excellent school in terms of both academics and athletics.
The classes are challenging and the sports are competitive. I have been well prepared for college throughout my high school career academically. Part of the requirement for each student is to perform fifteen hours of service throughout each school year. This is a unique aspect of Whitinsville Christian School that has helped me to grow spiritually. Whitinsville Christian School is an excellent school for spiritual and academic growth.
– Class of 2018 student
Schedule a Tour
Experience WCS with a personal tour and discover first-hand how we Inspire Minds and Ignite Hearts!
Schedule a tour
Request Information
We look forward to providing more information regarding WCS.
Request Information
Academics
At WCS, our students are prepared as confident, critical thinkers and joyful learners. We understand that God has designed each child in a unique way, with his or her own strengths and gifts. It is our mission to help students realize their God-given abilities so they become active learners and responsible participants in their own learning.
Parent & Student Resources
When Covid-19 concerns prompted an early departure from campus in January, the WCS bands and choir were in the process of finalizing a virtual Christmas concert. Not to be deterred, Director of Bands & Choirs Baird Lashley announced that he and his musicians were...
read more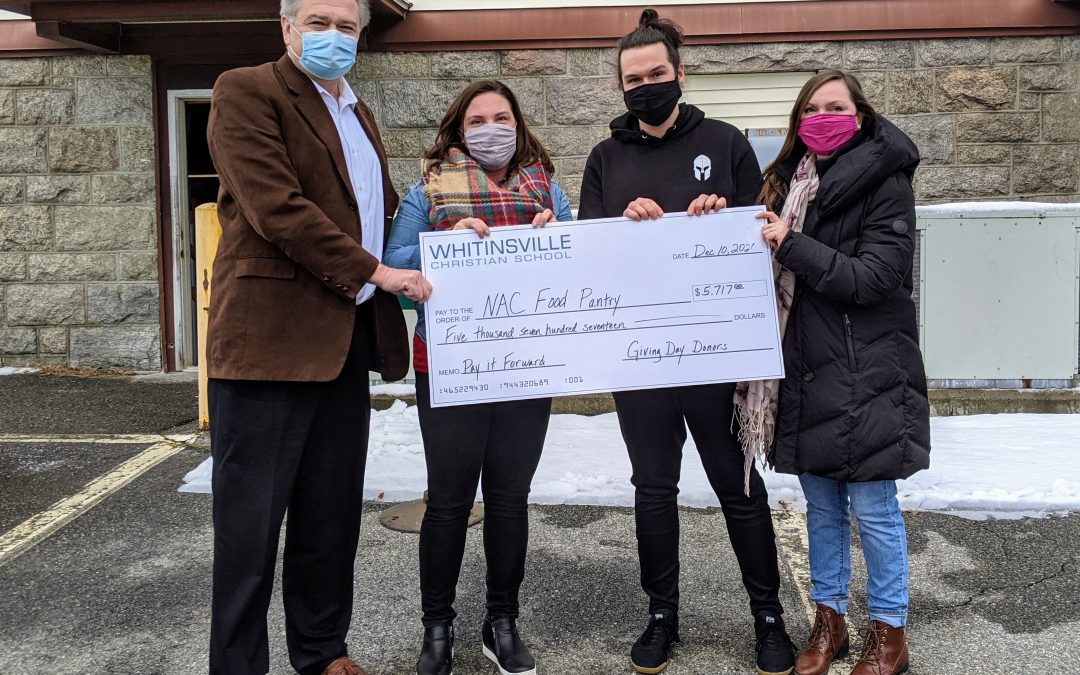 Whitinsville Christian School's Dutch apple pies are a holiday tradition for many, including the tradition of giving them away. The WCS Dutch Apple Pie sale has provided thousands of pies to area food banks and first responders over the last few years through the...
read more
Today we are pleased to celebrate Joseph T. on his signing of a National Letter of Intent to continue his education and running career at Northeastern University on an athletic scholarship. For the past few years, Joseph has been well respected as a top runner in the...
read more
Dear WCS Families, Faculty, and Staff, As you have seen in the news, the Covid-19 pandemic continues to evolve quickly in terms of cases, as well as health and safety guidelines. The WCS Response Task Force is constantly monitoring data, and is in close contact with...
read more