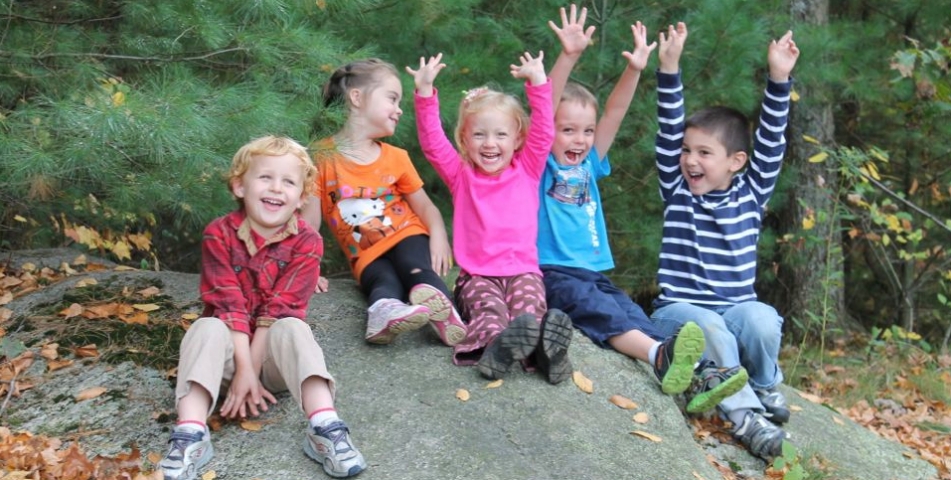 CURRICULUM
The Curriculum at Stepping Stone Preschool encourages young children to explore God's world, enjoy learning, and participate in Christian community. Each program has a distinct curriculum so students who participate in preschool for two or three years have a wide variety of learning opportunities.
Generally our curriculum is literature based and comprehensive including centers for math, science, literacy, worship, handwriting, dramatic play, sensory experiences, and art. The Educational Standards for the Commonwealth of Massachusetts are exceeded by the activities and offerings in both the P3 and P4 programs.
WHAT WE OFFER
FLEXIBLE OPTIONS
For 3 year olds, we offer a traditional morning-only option or extended-day option on Tuesdays and Thursdays.  We offer a 3 full-day class for three year olds, as well as a 5 full-day class for the 'threes'. Children must be 3 by September 1st. If your child turns three by December 31st, you have the option to enroll them for school at the time of their birthday with the understanding that although they will be exceptionally prepared for kindergarten, they will not be able to start kindergarten unless they are 5 by September 1st.
For the 4 or 5 year olds, we offer a variety of flexible programming; a traditional morning only option on Mondays, Wednesdays, and Fridays with extended day; or Monday through Friday morning only or with extended day. Children must be 4 years old by September 1st and potty trained.
The extended day option allows the children to stay for additional enrichment until WCS school dismissal. This would operate only on the days the children are in school and would hold dismissal at 2:30. This option can be purchased for the whole year at a reduced cost, or for parents' convenience, children may be signed up for any particular day one week ahead through our a-la-carte sign up at the school. This extended day adds new components to the curriculum.
All of our programs follow the Whitinsville Christian School Calendar beginning in late August and ending in early June. The morning-only classes operate from 8:30-11:30. Hot lunch is available to children staying for extended day.