The middle school is focused on the students; we encourage students to engage in activities that develop their gifts and talents.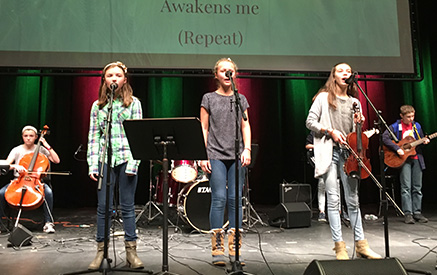 Student Life and Activities
Chapels: Students plan and participate in leading worship at chapels
Focus Team: Students may be involved in the Focus Team – an 8th grade leadership group
Middle School Teams: All students participate in cross-grade team-building activities throughout the year
Yearbook: Students create a middle school yearbook
Field Trips: Students are able to enrich their academic experience through a variety of field trips

Summit- a time of leadership building for 8th grade students

Pizza and Paperbacks- Students join with teachers in reading worthwhile literature and for discussion and pizza
Extra Curricular Opportunities:
Craft Outreach Club | Chapel Band | Yearbook | Video Editing Club | Art Club | Newspaper | Math Olympiad | Girls Running Club | Boys Running Club | Pizza And Paperbacks | Athletics
Serving The Community
Our middle school engages in several service activities throughout the year.
In September we work in conjunction with the People First Food Pantry to create snack packs for local children to bring to school.
During the Christmas season our school participates in Operation Christmas Child.  We wrap shoe boxes and fill them with candy, toys, personal hygiene items, and small school supplies.  These boxes are sent all over the world to help children in need.
Our sixth grade class participates in Outreach Fridays during their Bible class.  This time is set aside to put our faith in action by being Christ's hands and feet in this world.  Last year the class made fleece blankets that were donated to the Providence Homeless Organization.
Our seventh grade class has the opportunity to work with the Grafton Community Farm each fall.  We harvest produce that is donated to the Worcester County Food Bank.
The entire WCS community collects soda can tabs for OSAAT (One Step At A Time).  This organization uses the metal tabs to raise money that allows children with cancer to attend summer camp.